If you are looking for an honest agent who takes your interests first - Igor is the best real estate agent you can find. He is an honest, patient and experienced agent who will not push you into buying the first thing on the market just to get his share. What is the best of it - he really stands on your side and tries to negotiate the best deal for you. He was able to negotiate 4% PRICE REDUCTION with the seller in this crazy market situation where all the houses around are sold 100k higher than advertised. He did it by doing an extensive market research and a lot of negotiation. We truly did not expect to reduce the price that much. Igor is very honest and will indicate all the red flags even when they are not obvious to the buyer. In addition, he knows lots of contacts and will consult numerous people regarding the issues found in the house. For example, our inspector report indicated the minor issue that the deck was not connected properly. We, as first time house buyers, had no idea how big the issue was - so Igor took the issue seriously and talked extensively with our inspector as well as some other independent contractors in order better understand the seriousness of the issue.
Vicky, Artiom 2020
I recently bought an investment property with Igor's help and really enjoyed working with him. Igor was assisting me from the beginning of the process until the closing of the deal. I was very new to the real estate market and did not know how to start the process of buying the property. Igor explained me all the process and was supporting me on every step. After getting loan pre-approval, I started looking for the places and he went to property viewings with me and researched every property very thoroughly considering all my priorities and limitations. He was very responsive to all my requests and questions. After 2 weeks of searching I found the property I liked and Igor was able to quickly craft an offer and communicated fast with selling agent and so I got the offer accepted. Igor was also very helpful during the closing preparation period. He helped me to understand and review the title insurance document and communicated with escrow company when I had questions about title's exceptions. This deal was not the easiest since one of the sellers was a foreigner person, so Igor explained me all the complications of this for me such as FIRPTA taxes. He also made sure that escrow company is aware of this and does closing cost calculations appropriately.
I just want to thank Igor for all the work he has done and for being very professional, helpful and supportive agent. I would recommend Igor as great real estate professional to anyone.
Kseniya - 2018
---

-2018
---
When we decided to purchase our first condo, we asked several friends and co-workers for agent referrals and Igor Shubin was mentioned several times by different people as a very knowledgeable agent who is always doing his best to win an offer in this highly competitive market. After getting these recommendations, we decided to work with Igor and quickly found that all the referrals were true!
When we first met, Igor showed us a condo and explained both general things about the process of purchasing and pointed to the important things to consider when attending the open house. He quickly understood what kind of condo we were looking for, and presented lots of options to choose from. He was always ready to come and look at any condo we considered (often within an hour after we called), but he never pushed us to make a deal and always respected our opinion.
When we drafted an offer, he gave great advice about the expected appraisal price (and the actual appraisal we later received showed exactly the same price as Igor predicted). He offered some strategy when extending offers and we were lucky to win the second offer we extended. The closing process was seamless and Igor was always available if we had questions.
Overall, we are extremely satisfied with our experience with Igor Shubin and highly recommend working with him to purchase your home.
Alexandra and Alexander Fenster - 2017
---
Igor was my agent when I sold my old home and purchased a new one recently. I can only say good things about Igor. He's easy to work with, always responsive, and possesses deep insights into the market. He focuses on getting the results that are right for his clients rather than making a quick deal. His expert advice was invaluable at all stages of buying and selling. Without a doubt, Igor will be my first choice for all my future real estate needs!
Jan Ziese - 2017
---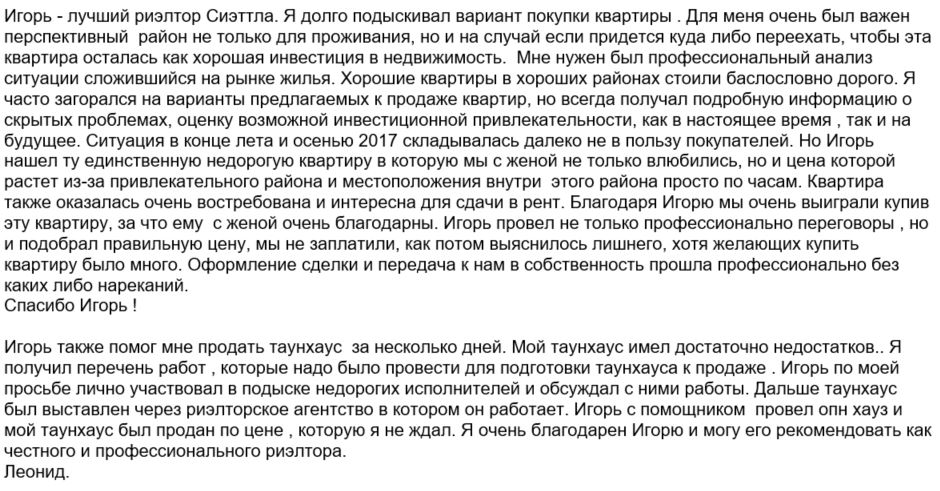 - 2017
---
Dear Igor or to whom it may concern,
I can't describe what it feels to walk-in in your own home! Fantastic feeling, especially for a first time home buyer, like myself. Throughout this path I was learning tons of aspects of searching, assessing and buying properties from you. It's an important combination of communication, legal, financial and technical challenges which has significantly improved my skills and knowledge for future. Igor, I got your contacts through referral from my close friend, and I don't regret for a second that I decided to embrace your professional help as a Real Estate Agent. Your expertise in the subject area is very strong and communication skills are solid. It's not a surprise for me that you have been awarded among the best agents in Seattle several times! Thank you for all the work you have done to make my search experience and the transaction very special.
Gleb Karapish - 2014
---